Spacelabs Pathfinder SL Software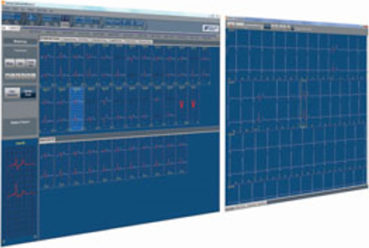 Pathfinder SL represents the evolution of over 40 years of technology, design, algorithm development and experience in the analysis of ambulatory ECG recordings.
Pathfinder SL converges and enhances the best features and capabilities of a range of products, including our legacy Holter systems, into one seamless analysis solution to enable the comprehensive exploration of a patient's cardiac condition.
Pathfinder SL offers a significant new advancement in the capability of Holter by providing full analysis now for up to a full seven days of continuous recording, in one analysis process and one report!
Pathfinder SL's algorithm is designed to quickly handle the hundreds of thousands of beats seen over a seven day recording, which provides the clinician with comprehensive insight into ECG events and morphologies as well as ST segment, Heart Rate Variability and QT analysis. This coverage increases the window of opportunity to capture and quantify significant events.
Product: Spacelabs Pathfinder SL ECG Analysis Solution.
Part No: 98000-01 KIT
ST Analysis – 7 Day ST segment analysis including action replay and measurement point adjustments.
  12 lead Holter ST analysis including lead selection and elevation/deviation color mapping.
12 Lead Analysis
 Selectable leads for analysis.
12 Lead ECG snapshot at any period.
 Full Glasgow algorithm 12 lead ECG interpretation on 12 lead ECGs.
HRV Analysis
Pathfinder SL's trigger algorithm and user sensitivity controls enable the system to precisely trigger on R-waves even in the presence of noise.
7 day HRV analysis with multiple views of rates and rhythms are available including the arrhythmia graph.
QT Analysis</li> <li> QT trend graphs and tables.
QT measurement adjustment markers.
 QT or QTc measurements.
Pacing Analysis
Atrial and ventricular paced beat detection with pacing track.
Paced beat histograms, scatter plots and relationship diagrams for rapid identification of pacing function.
Pacing rate control graphs with day/night and overall comparisons.
Feature: "Sleep apnoea" determines sleep apnoeic periods from the standard Holter recording.