Spacelabs Sentinel Database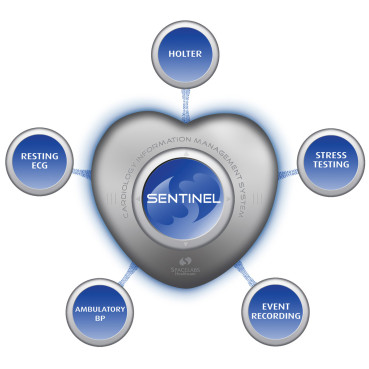 Spacelabs Sentinel – Connectivity in Cardiology fully integrates reports from our entire range of noninvasive diagnostic cardiology procedures: Holter monitoring, ambulatory BP monitoring (ABPM), 12lead ECG, and ECG stress testing.
Spacelabs Sentinel organizes the data and stores both details and recordings in a central, networked database, saving time in searching for records and improving your efficiency. With Sentinel, you have immediate access to the complete information for a given patient, including historic ECG data. Plus, it connects the entire patient record seamlessly – admission, diagnosis, reporting, and discharge – and is designed to integrate with your EMR/HIS system.
Spacelabs designed Sentinel to work the way you want to – it puts you in control. When you control the workflow, you have greater flexibility to coordinate your procedures, further improving your daytoday efficiency.
You will find that its innovative capabilities increase the effectiveness with which clinical data is handled while maximizing capital and operating budgets.
Immediate access to historic ECG tests, supporting timesensitive clinical interventions in emergency situations
Physicians can securely login from anywhere that the Internet is available, to review and confirm patient tests utilizing simple user interface
Automated entry of physician orders, automated test results and billing
Longterm storage of complete Noninvasive Diagnostic Cardiology test results including Spacelabs Holter, 12lead, stress, and ABP with instantaneous data retrieval
Proven SQL database technology for enhanced reliability, and support of sophisticated multisite architecture for ECG analysis and reporting
Wide variety of system available to accommodate specific needs of smaller cardiology practices to larger institutions
Support of multiple modalities: Holter, 12lead, stress, and ABP _ easy adaptation to changes in customers diagnostic cardiology needs
Ability to integrate nonSpacelabs 12lead systems _ further reducing equipment replacement cost
Ability to migrate legacy patient information and maintain in single database
Ability to integrate bidirectional HL7 messages with EMR and HIS system
Automated ADT, physician order entry, test results, and billing
Windows based solution designed to provide electronic, paperfree, environment for all noninvasive diagnostic cardiology needs
Industry standard SQL database technology for enhanced reliability
Support of multisite architecture for ECG analysis and reporting
Security features such as SQL technology, user profiles, and access control to help enable HIPAA compliance
Product: Spacelabs Sentinel – Cardiology Information Management System
Part No: Customised
Sentinel can be used in a variety of clinical settings. Each installation can be tailored to your specific needs or can be installed straight from the box in almost every clinical and data integration environment.
To learn more about Sentinel, or our full range of non-invasive diagnostic cardiology products, please contact your sales representative or our offices listed below.
• Integration Engine – Technical Summary
• Transport – TCIP or file-based operation
• Process type – Windows Service
• Lower Layer protocols – Minimal Lower Layer Protocol (MLLP) with configurable delimiters
• Direction of data transfer – Bidirectional
• Target OS – Windows Server 2003, WinXP
• Security – Authenticated connection between the Messaging Service and the Sentinel database
• Logging – Service start/stop, error conditions and message received events logged to custom windows event log. Logging of incoming or outgoing messages in a configurable location within the local file system.
• HL7 Summary
• Versions supported – v2.1 – v2.5
• Incoming – patient demographics and administration via ADT feed
• Outgoing – ORU R01 with embedded PDF or UNC path to a PDF
• Acknowledgements – Original Mode only
• Case/Visit Numbers – are extracted from any incoming message that contains a value in the PV1-19 field
• IHE Compliance – Sentinel implements two IHE actors:
• Report Creator – CARD.DRPT.RC
• Information Source – CARD.RED.InfoSrc
Single workstation or client installation
Operating system Windows 2000, Windows XP Professional, Windows Vista latest Microsoft Patches applied
Ports one USB port / one Serial port
Processor minimum Pentium 4 processor
RAM >=2GB recommended
Disk Space minimum 200 M Byte free disk space only for installation, recommended >20 G Byte free disk (plus sufficient for data storage of recordings)
Display resolution 1024 x 768 minimum, 1600 x 1200 recommended
Drive CD ROM
Server installation
Processor >= 2.8GHz Intel Pentium (Xeon) CPU.
Hard Disks 3 x 250GB >10krpm SATA Hard Drives (RAID-5 data array)
Minimum 2 x 250GB >10krpm SATA Hard Drives (RAID-1 system array)
RAM Memory (Recomended) >= 4GB ECC RAM
Drive CD ROM
Operating System (Minimum) Microsoft Server Operating System Software
Software (including IIS), latest Microsoft Patches applied
Network 100/1000 Ethernet Adapter
Database SQL Server