It's with great pleasure that Ecomed has been able to transition one of Queensland's main hospitals from their previous bladder scanners with 45 Mcube BioCon 700 bladder scanners and roll stands. Due to the success of this transition, there are now over 100 units in circulation throughout Queensland hospitals.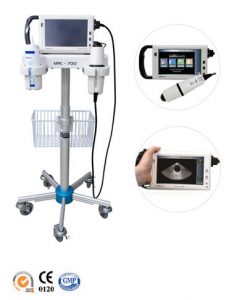 The feedback from technicians and staff using the BioCon has been extremely positive due to how easy it is to use and calibrate, providing consistently reliable
results which are essential for accurate patient care.
Those hospitals that have invested in these bladder scanners also have added peace of mind due to the 3 year warranty provided on all Mcube BioCon bladder scanners which include 1 full year replacement guarantee for the probe regardless of the cause of damage from the date of purchase.
We have also recently introduced an optional further 2 years extended warranty, providing even further value with a total of 5 years warranty.
Ecomed continues to work with Queensland Health to ensure the success of the Mcube BioCon bladder scanners in Queensland hospitals.