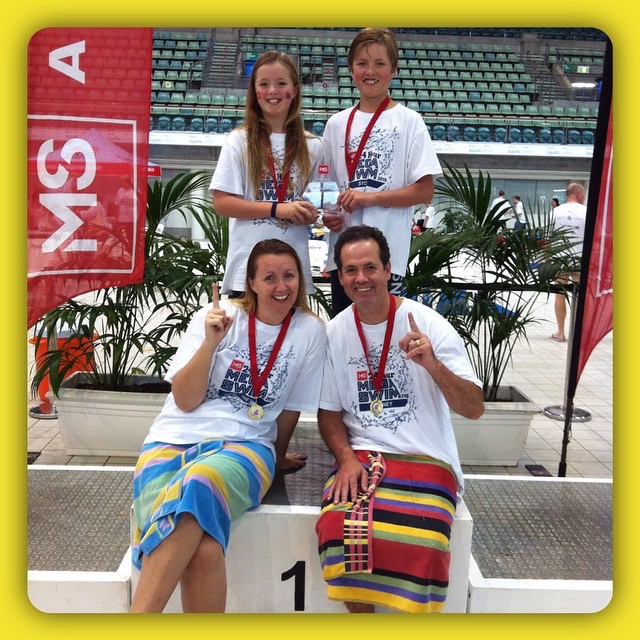 Ecomed was delighted to support our newest team member – NSW Product Specialist, Lee Massey – in the 24 Hour Megaswim in May this year.
Lee and his family of 4 joined 590 other Sydneysiders for 24 hours of swimming to raise $226,176 for MS. Combined with the other states the 24 Hour MegaSwim raised over $850,000.
Chatting to Lee after the swim, he had this to say, "A huge thank you for supporting me in the 2015 Sydney 24 Hour Mega Swim! Thankfully I did not drown although I feel a little sore it's not as bad as I thought it would be."
With help from Ecomed and the team, Lee raised $2,875.00 and achieved overall 8th highest contributor with over 300 individuals swimming.
"As a family, the four of us raised $5,501.00 and our swimming team raised $27,950.00 and gained 1st place with the highest contribution overall. Over Ten people's lives will be changed with the funds raised by our team." Lee advised.
"I have photos as "proof" that I actually swam and Sarah Ryan (Olympic Gold Medallist) can confirm that she overtook me on many occasions during the swim.
"Again, thank you for your support it's been a bit overwhelming for my first swim in this event. I hope to raise even more next year."
From MS facts, "Multiple sclerosis is a lifelong disease for which a cure is yet to be found. However, doctors and scientists are making discoveries in treating and understanding multiple sclerosis every day.
MS provides programs and choices to people with multiple sclerosis – services that are vital to maintain the independence and dignity of people with multiple sclerosis. We also lobby the Government for a better deal and provide the vital information that people with multiple sclerosis need to make decisions on their future.
MS is also the largest funder of multiple sclerosis research in Australia through its research branch MS Research Australia.
For more information
If you would like more information on multiple sclerosis, visit the MS website – www.msaustralia.org.au or contact MS Connect on 1800 042 138."