Riester Pinard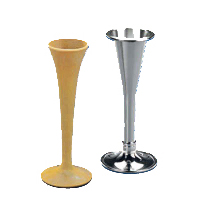 The pinard special stethoscope is used to auscultate the heart sounds of the embryo in the womb. The shape of the bell provides the particularly good acoustics. Available in two models:-sturdy plastic or-particularly lightweight aluminium. 2 Year Warranty
Product: Riester pinard.
Part No: RI.4190 plastic, Part No: RI.4191 aluminium
The pinard special stethoscope is used to auscultate the heart sounds of the embryo in the womb. The shape of the bell provides the particularly good acoustics.
Available in two models:

sturdy plastic or
particularly lightweight aluminium.

Supplied in a cardboard box.