seca 727 – Baby Scale,Wireless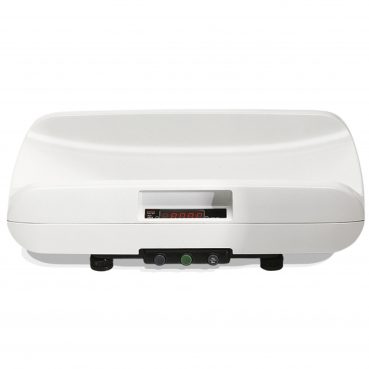 seca 727 wireless electronic baby scales for NICU- offers precise weighing even if the baby is restless. The ergonomically shaped tray with high rounded sides makes it easy to weigh larger babies.
Capacity: 20 kg
Graduation: 1g< 6kg >2g
Dimensions (mm): 551W x 151H x 320D
Functions: TARE, auto-HOLD, weighing range switch-over, kg/lb switch over, auto switch-off, wireless EMR connectivity.
Connection: to seca 466 wireless printer or send data to EMR via seca 452 EMR interface.
2 Year Warranty
Product: seca 727 Wireless baby scale with optimised damping system.
Part No: SE727.
Approval class: III (3)
Capacity: 15 kg
Graduation (g):2 g < 5 kg > 5 g
Measuring range in cm:0 – 50 cm
Measuring range in inch:0 – 20 "
Graduation [Measuring Rod]:1 mm / 1/8″
Power supply: Rechargable batteries, Power adapter
Measure (W x H x D): 551 x 151 x 320 mm
Net weight: 7.1 kg
Functions: Overload protection, Transportation protection, TARE, HOLD, Auto-HOLD, Automatic switch-off, Damping
Accessories: seca 466 wireless printer, seca 452 EMR interface
seca 101 – free EMR software available for download.
360 wireless printer advanced seca 466
EMR wireless interface seca 452