Riester precisa N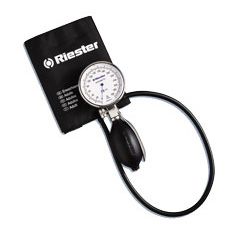 Precisa N, a typical Riester quality product.
Available in metal with an aluminium housing and simple tube – plug-in connection or alternatively with a sturdy plastic housing with chromium-plated tube – screw connection.
precisa N is ideal as a mobile, secondary or reserve device for any office practice and every hospital. Choice of single tube or twin tube connection. 2 Year Warranty
Product: precisa N hand held sphygmomanometer
Part No:RI.1360-107LF one tube
Precision air release valve with fine adjustment and wear-free
Microfilter protects air release valve and measuring system
Diaphragm pressure-loading capacity up to 600 mm Hg Specially tempered copper-beryllium diaphragm, with precision movement and almost non-aging
Diaphragm pressure-loading capacity up to 600 mm Hg
Made in Germany
Latex bulb for pumping up the cuff
Metal valve base
Ergonomic spoon-shaped grip of stainless steel
Aluminium casing, stainless steel spoon
Linear, tilted aluminum scale, from 0 to 300 mm Hg (easily legible)
Maximum error tolerance +/- 3 mm Hg
Complete range of cuffs available _ from neonatal to thigh.
BPC1-6LF BP 1 tube bladder cuff, obese
BPC1-5LF BP 1 tube bladder cuff, adult
BPC1-4LF BP 1 tube bladder cuff, small adult
BPC1-3LF BP 1 tube bladder cuff, child
BPC1-2LF BP 1 tube bladder cuff, infant
BPC1-1LF BP 1 tube bladder cuff, newborn
BPC1-7LF BP 1 tube bladder cuff, thigh
BPC1-8LF BP 1 tube bladder cuff, XL thigh
BPC2-6LF BP 2 tube bladder cuff, obese
BPC2-5LF BP 2 tube bladder cuff, adult
BPC2-4LF BP 2 tube bladder cuff, small adult
BPC2-3LF BP 2 tube bladder cuff, child
BPC2-2LF BP 2 tube bladder cuff, infant
BPC2-1LF BP 2 tube bladder cuff, newborn
BPC2-7LF BP 2 tube bladder cuff, thigh
BPC2-8LF BP 2 tube bladder cuff, XL thigh