Clements Ceevac Portable Suction Pump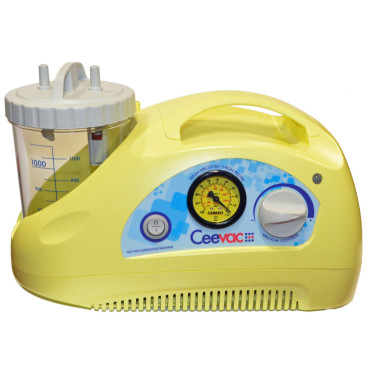 The Clements Ceevac mobile suction offers the convenience of a lightweight, fully portable suction source with the versatility of three alternate power sources – mains, 12 volt DC and an internal rechargeable battery.
Designed for high vacuum performance, reliability and minimal maintenance, the Ceevac is ideal for emergency services, home use or as an alternative to wall suction.
Max Vacuum: -80 kPa [-600 mmHg]
Max Flow : 25 litres/minute
Battery run time: 60 minutes
Direct vacuum regulation
Compact and lightweight
12 Month Warranty
Product: Clements Ceevac Portable Suction Pump.
Part No: SUC81030
Power Rating: 100- 240 V / 50/60 Hz   100VA
Maximum Vacuum: -80 kPa [-600 mmHg]
Maximum Flow Rate: 25 litre/minute (measured through 1L reusable jar)
Gauge: Bourdon tube type, dual scale, graduated in kPa and mmHg
Gauge Range: 0 to -100 kPa graduated at 5 kPa 0 to -760 mmHg graduated at 20 mmHg
Vacuum Regulator: Needle valve type
Pump type: Diaphragm – motor and pump combined
Collection Canister: 1 Litre autoclavable, shatterproof polycarbonate jar. Optional: 2 Litre Vacsax disposable liner VAL-201
Overflow Protection: Float valve mechanism/ Hydrophobic filter
Internal Battery: Fully sealed, rechargeable SLA
Battery Run Time: 60 minutes
Battery Indicator: Charging / Low Battery LED / Low Battery Beeper
Battery charger:External
Charging Time: 4 hours
Dimensions: H 210 mm, W 180 mm, L 350 mm
Weight: 4.4 kg
Housing: Moulded Polyethylene Plastic
Operation Mode: Continuous operation
SUC81030 001 1 Litre collection canister complete
SUC81030 009 Seal for lid of Ceevac reusable 1 Litre jar
SUC81030 010 Lid assembly for Ceevac 1 Litre reusable jar
SUC81030 011 Power pack/charger for Ceevac
SUC81030 012 Filter Hyrophobic for Ceevac (10 Pack)
SUC81030 013 Silicone Tubing set for Ceevac
SUC81030 015 Battery SLA for Ceevac
SUC81030 017 12V Vehicle adapter for Ceevac
SUC81030-KIT2 Ceevac kit to transfer to disposable
VAL-201 Disposable liners