Spacelabs Aria Tele Telemetry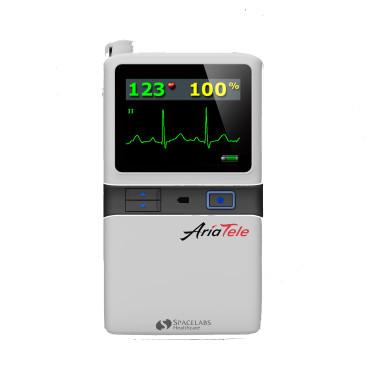 Spacelabs Aria Tele, the new telemetry transmitter, delivers a high performance product with a large full colour screen.  View your patients ECG or SpO2 waveforms from the large easy to read graphic display. Up to four leads of ECG, lead by lead, can be viewed along with the heart rate.
Powered by either standard AA alkaline or NiMH batteries and waterproofed to IPX7, Aria Tele provides both reliability and a cost effective means of monitoring your ambulatory patients.
The slim and lightweight design coupled with lead wires that are ergonomically placed in a grouper set make it easy to change wires when necessary and channel the cables comfortably through the patients clothing.
Product: Spacelabs Aria Tele Telemetry Transimtter
Part No:96281
Leads transmitted: II and V (narrowband) / 7 from 4 vectors (wideband)
Leads shown on display I, II, III, and V
Electrode configuration individually replaceable DIN standard safety lead wires
Lead fault indicator yellow LED flashes for lead fault
Pacemaker detection detects pacemaker pulses of +/− 0.5 mV with pulse widths of 0.2 to 2 ms and +/- 1.0 mV at 0.1 ms pulse widths
Pacemaker rejection pulse period of width 0.1 msec, amplitude up to 700 mV (2 mV, 10 mV, 300 mV, and 700 mV tested), with an overshoot of less than or equal to 4 msec
Remote record button yes
Dimensions: (H × W × D) 126 × 71 × 22 mm
Weight: 117 g (4.127 oz.) to 127 g (4.479 oz.) (without grouper, batteries, leads)
Display size (H × W) 35 x 47 mm
Display type  color LCD
ECG display heart rate, ECG waveform, lead indicator, pacemaker flag
Water resistance waterproof; meets EN 60529 IPX7
Output power <5 mW EIRP
System ECG Signal
Range +/− 4 mV
DC offset up to ±300 mV
Noise ≤50 μV peak-valley
CMRR >85 dB
QRS detection detects QRS complexes with durations of 40 to 120 ms and amplitudes of 0.5 to 5 mV
Defibrillator protection meets IEC 60601-2-27
System Resolution 4 μV per LSB referred to input
Input impedance >10 MΩ differential at 10 Hz
Gain accuracy }5%
Accuracy of signal reproduction meets IEC 60601-2-27
Signal bandwidth 0.05 to 40 Hz
Battery types two AA/LR6 alkaline or two NiMH batteries
Battery Life, typical alkaline batteries (hours) >72
Battery status indicators yellow battery indicator LED flashes when the battery level is low
RF signal shutdown 1.9 VDC ±0.1
Classification: MDD Class IIb, EN 60601-1 Type CF applied part, defibrillator proof.  Rated for continuous use
Environmental Requirements: Operating Temperature — 0° to 50° C (32° to 122° F)
Humidity — 95% (noncondensing)
Altitude — 0 to 3,000 m (0 to 9,840 feet)
Storage Temperature — -40° to 75° C