About ECOMED
Established in 1995, Ecomed is an Australian owned distributor of Medical Equipment & Consumables with specialist staff serving the Australia and New Zealand health care markets.
Ecomed customers are provided with high quality products, backed up by excellent before and after sales support.
Our principle manufacturers partner with Ecomed because we understand their products; we know their customers and we are passionate about the products they make.
Our customers are supported by a dedicated team of professional health care Product Specialists, Product Managers & Clinical Educators.
Our sales channels are backed by Customer Service, Marketing, Finance, Warehouse and Regulatory Affairs.
Our products are maintained by highly qualified Service Personnel that receive ongoing manufacturer training.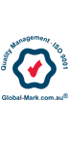 Having successfully achieved certification, ECOMED continues to maintain our quality management system, which complies with the requirements of ISO 9001:2008.