Casmed Reflectors – temp probe covers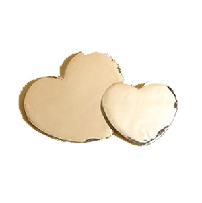 Casmed NeoGuard Reflectors, extremely gentle for baby's skin.
Casmed's NeoGuard reflectors secure temperature probes to an infant's skin, shielding it from radiant heat whilst the hydrogel adhesive allows the probe to be removed and repositioned withouht irritating the babies skin. Available in two sizes to suit any baby.
Product: CASMED NeoGuard Reflectors for infant care
Part No: 01-01-0304 Reflector 4200
Part No: 01-01-0303 Mini Reflector 4220
Holds NeoGuard Temp Probe securely to skin while shielding it from radiant heat
Proprietary hydrogel adhesive allows probe to be removed and repositioned without irritating babies' skin
Two sizes to fit any babies
Part 4200 – 1.5″ Heart, 200/case
Part 4220 – 1″ Heart, 100/case