Vitalograph Micro hand-held Spirometer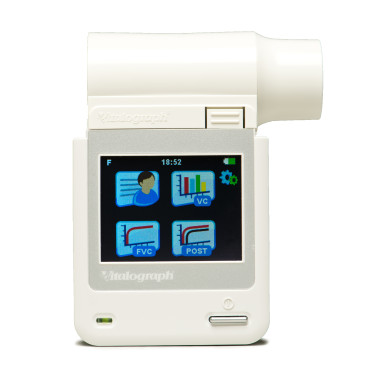 The New Micro, by Vitalograph – Pocket Spirometer with PC Spirometry reports.  The Vitalograph micro is quick and easy to use as part of a routine physical examination. The micro now comes with the 'Vitalograph Reports' PC software for creating PDF's that can be viewed, archived, transmitted or printed.
Single breath evaluation of the most important test parameters are ready at a glance on-screen with additional parameters, predicted values, percentages and interpretation available on the PDF report.
Features:
Rapid single breath evaluation of FVC, FEV1, FEV1% &PEF
Includes Vitalograph Reports, PC PDF software
PDF report provides additional parameters, f/v and v/t curves with test quality, predicted values and interpretation
Solid-state Fleisch technology with no moving parts
Linear flow measurement with low back pressure
Low cost, compact, lightweight and robust
Precise technology for total confidence
Accessories: SafeTway Mouthpieces, Mini SafeTway mouthpieces, disposable noseclips, Precision Syringe, serial spirometry record cards, small padded carry case, half day operator training 12 Month Warranty
Product: Vitalograph micro
Part No: 63310
Parameters Displayed: FVC, FEV1, FEV1%, PEF
Parameters on Report: FVC, FEV1, FEV1%, PEF, FEV6, PEF, FEF25, FEF50, FEF75, FEF25-75
Operating Temperature: ATS/ERS Limits: 17 -37 _C Design limits: 10 – 40 _C
Battery: User-replaceable, PP3 400 tests operating life, Auto shutdown 2 minutes after last key press
Measuring principle: Solid state No2 size Fleisch pneumotachograph
Accuracy: Better than +/-3% volumes
Range:0 – 9.99 L BTPS
Flow Impedance: Better than 0.15 kPa/L/s at 14 L/s including SafeTway
Display: Custom Liquid Crystal Display
Size: 6Ó x 3Ó x 1 1/2Ó
Weight: 5 oz
Performance Standards: ISO EN 23747:2005 ATS/ERS:2005 Guidelines
Safety Standards: EN ISO 60601-1:2005 -1 -2 -4
Medical Safety Standard: Medical Devices Directive 93/42/EEC1993
Designed & Manufactured Under: ISO 13485:2003, FDA 21CFR820, CMDR & JPAL
36020 3-L Precision Syringe
28750 BVF - Bacterial/Viral Filters (50)
20242 SafeTway Mouthpieces (200)
20980 Mini SafeTway Mouthpieces (50)
20201 Cardboard Mouthpieces (200)
20303 Disposable Noseclips (200)