seca 664 Wheelchair Scale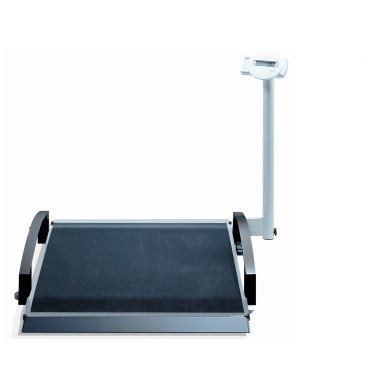 seca 664 Multifunction Wireless Wheelchair Scales. With its high capacity of 360 kg, this scale makes it easy to weigh even heavy patients. Easy access is assured by its extremely low platform and the self-lowering ramps. The secure side rails give additional safety. The swiveling LCD with large letters is easy to read both for the patient and for the caregiver. The seca 664 can be folded up in no time and can be transported anywhere, thanks to its roller castors.
Capacity: 360kg
Graduation: 100g
Dimensions Platform (mm): 557W x 55H x 557D
Overall Dimensions (mm): 640W x 1150H x 6600D
Functions: TARE, pre-TARE with 3 memory cells, HOLD, BMI, kg/lb switch-over, damping, automatic switch-off.
2 Year Warranty
Accessories: stadiometer seca 274 or seca 264, seca 460 – RS232 interface
Product: seca 664 Wireless wheelchair scales
Part No: SE664
Digital wheelchair scale with wireless transmission
Capacity: 800 lbs / 360 kg
Graduation: 0.1 lbs / 50 g
Dimensions (WxHxD): 1,102 x 912 x 1,150 mm
Dimensions/platform (WxHxD): 800 x 55 x 965 mm
Weight: 73.6 lbs / 33.4 kg
Power supply: power adapter, rechargeable batteries
Functions: TARE, pre-TARE, HOLD, auto-HOLD, BMI, auto-CLEAR, lbs/kg switch-over, damping, automatic switch-off, SEND/PRINT
Included: Two fold-away ramps
RS232 compatible
System compatible with: 360
seca 274 stadiometer
seca 264 stadiometer
seca 456 wireless USB adaptor for seca 360
seca 466 wireless printer
seca 101 - free emr software available for download.